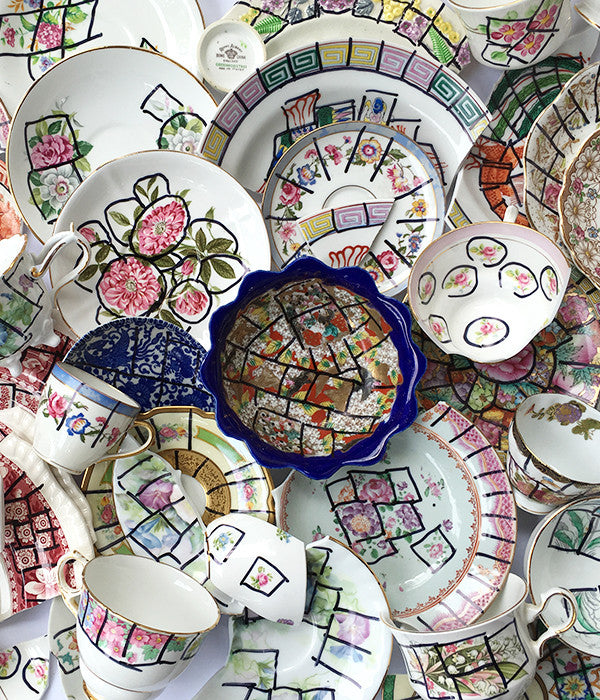 I'm getting ready to make a new collection of vintage pottery jewelry thanks to Pam who devoutly supply's me with beautiful Asian inspired pottery, Mark who recently closed his Antique store, Heather who sent a great collection of always need Blue Willow pottery, Kathy who loves to get deals on pottery at thrift stores and Marci who recently down sized and donated her amazing teacup and saucer collection to my cause. Thanks so much you will all be getting some special pieces! 
In this collection I have bold colorful Asian inspired pieces that will go into the Vintage Bold collection with pieces from China and Occupied Japan, There is also a large variety of floral bone China from England with makers such as Windsor, Royal Vale, Royal Albert, Royal Stafford, Phoenix and Stafford to name a few a.so my favorite Limoges from France! And bright red and white Spode pottery to create a French Collection that I will mix with clear and aqua sea glass.
The first step to creating a JL925 Jessica Lee vintage pottery piece is drawing around the images I want to capture and then cutting it up with a tile cutter. This collection may take a few days! I originally used to randomly break the dishes but lost too much pattern and found using the tile cutter saved a lot of the pottery and I was able to match pieces for earrings more consistently. I do miss the days of breaking dishes though!
     
Once the pottery is cut it is placed into a tray with similar color, pattern or texture. I use my trays of pottery and glass like paints combining all the colors and textures with stones, sea glass, pearls or my many castings to create a one of a kind piece.
      
As I am beginning to create this new collection am able to take special requests! I am already working on some special pieces using pink sea glass for one of my wonderful customers! Let me know if you want something special also! Email me at info@jl925.com with any requests.                              * Live the Life you Love! Jessica *
Continue reading